For heavy people, finding a sofa that is both comfortable and durable can be a struggle. And it can be even more difficult to find a sofa that is both comfortable and stylish.
On top of that, most of the leading brands out there today don't disclose the weight capacity of a sofa which leaves people with more questions than answers.
If you've spent more time with a crappy couch than you'd like, or if you've spent more time wondering what the best sofas for heavy people are instead of lounging on them, you've come to the right place.
I'm kicking things into 5th gear for my heavy friends and giving you guys the 7 best sofas for heavy people on the market in 2023.
How did I come up with the 7 best sofas for heavy people? I'm glad you asked!
For this post, I spent a week researching more than 20 different sofas from big-name brands like Ashley, Lovesac, Albany Park, Kardiel, and more to see if they checked my boxes. I looked at requirements such as weight capacity, frame construction, comfort, and style, and even read hundreds of customer reviews with a heavy focus on weight capacity.
I then took it a step further and reached out to some customer care managers of the brands themselves to get their take on the best heavy-weight sofas they offer for a truly unbiased list.
At Snug Sensations, we're dedicated to the overall well-being and contentment of everyone, regardless of their size or shape. We take it very seriously. Having said that, we have primarily geared our research toward heavy folks today. But rest assured, there's a sofa here for everyone!
Let's get into it.
What to consider before you buy your sofa
If you really want a sofa that fits your personality and will last for years to come, consider these crucial factors before you make your purchasing decisions:
Weight Capacity
When choosing a sofa for a heavy person, weight capacity is among the most important factors to take into account. Did you know that a high-weight capacity sofa can support, on average, 250–350 lbs each seat? Typically, the weight capacity is stated clearly on a lot of sofa brands in the description, although some don't do this. When you can't find the weight capacity, opting for solid hardwood, kiln-dried wood, or metal frames is the way to go.
Frame Construction
Another factor to consider is frame construction. A sturdy and durable frame is essential for supporting heavy weight. Sofas with frames made from solid hardwood or metal tend to be more durable and stable than those with frames made from particleboard or other weaker materials.
Cushion Density
Cushion density is also an important consideration. High-density foam cushions offer more support and comfort than low-density foam cushions do. Furthermore, thicker cushions are typically more comfortable for heavy people than tiny ones.
Comfort
Comfort is paramount when choosing the best sofa. Extra weight places increased pressure on the body, making proper support and cushioning essential. A comfortable sofa alleviates discomfort and promotes relaxation, enhancing overall well-being. It also improves posture, reduces strain, and contributes to a satisfying living space.
Opt for sofas with high-density foam cushions. These cushions offer better support and contour to the body, providing a comfortable seating experience. Additionally, consider sofas with wide and supportive arms that can provide additional comfort and help with weight distribution. Lastly, look for sofas with ample seat depth to ensure you can sit or lounge comfortably without feeling cramped or restricted.
Our best sofas for heavy people
---
Price: From $1,100
Dimensions: Depends on customization
Frame: Kiln-dried hardwood
Upholstery: Velvet
Weight Capacity: 900 lbs
Assembly: Easy to assemble/ can be done in 15 minutes
With the flawless design, next-level comfort, durable frame structure, multiple color options, and 700+ five-star reviews, it's no wonder The Kova Sofa by Albany Park is our choice for the best overall heavy duty sofa in 2023. What impresses me the most about this sofa is how reasonably priced it is considering the top-notch materials it's made of. In fact, all of the Albany Park sofa models are priced fair and attainable.
Made from kiln-dried hardwood, it's meant to last multiple decades and will easily support your entire family. For the base, a foam-topped webbing and spring suspension system are in place, and the legs are blocked-shaped with a slight taper. heavy duty couch heavy duty sofas heavy duty sofas heavy duty sofas
Kiln-dried hardwood is considered to be the most long-lasting material for sofas and can easily cost an arm and a leg.
The back and seat cushions are removable and reversible and made with feathers for cloud-soft comfort. Additionally, you can choose from either a plush velvet or polyester upholstered fabric sofa depending on your color choice. Both of these materials are great for kids and pet messes!
I couldn't find a weight capacity on this sofa so I decided to reach out to Albany Park's customer care manager, Mary. She explained that:
"Albany Park products are made of high-quality kiln-dried frames with your choice of solid wood or steel legs in the Albany Collection, steel gold or black legs in the Park Collection, and block legs in the Kova Collection. Our sofas have a weight capacity of up to 900 pounds; the loveseat, up to 600 pounds; and the armchair, up to 350 pounds. While our Kova Collection is comprised of reconfigurable module pieces, each individual piece has a maximum weight capacity of 300 pounds."
I can't argue with anyone that assembling a sofa yourself isn't the most enjoyable part. However, they offer the easiest step-by-step instructions I've ever seen with colored pictures to help guide you from assembly to relaxation in no time. If none of this stuff impresses you, they also offer free shipping and a 30-day return window. Just remember to keep the original packaging as they do charge a 20% return fee without it.
What we love
The Kova sofa checks many boxes as the best overall sofa for heavy people such as comfort, design, and high-quality materials. Whether you opt for the durable woven fabric or the plush velvet upholstery, it comes in a variety of colors that will allow you to spice up whatever color scheme you've got going on. And for heavy people, the sturdy frame made from kiln-dried hardwood, and the cloud-soft cushions make this sofa an absolute dream.
I love that this sofa arrives in easy-to-move boxes that were consciously designed for apartment people and folks needing to move through tight spaces. I also love that it has thorough assembly instructions so you can get to lounging asap. All the while, the price tag makes it so you won't have to feel that yucky shoppers' guilt. What's not to love?
What we don't love
It's in my fair nature to talk about the downsides of the furniture recommended so you can make the most informed shopping decisions, but I've got to say, the Kova sofa genuinely checks all the boxes as the best overall sofa for heavy people in 2023.
Shop Now
---
Price: $1,895
Dimensions: 82" Wide 42" Deep 31" Tall
Frame: Solid hardwood and engineered wood
Upholstery: Polyester, cotton, linen
Weight capacity: Not available
Assembly: Easy to assemble
For people who love comfort and design, look no further than the Esker Sofa by Blu Dot. When I say comfort, you'll basically be lounging on a cloud. And when I say design, I mean the kind that makes your friends envious. They call themselves "the fancy sweatpant sofas", and it's pretty obvious why. Adorned in plush velvety fabrics, this sofa will have you questioning whether you need to keep your bed.
But aside from comfort and style, this sofa is also extremely well-made and durable enough to withstand heavier weight. The frame is made from solid hardwood, which is one of the strongest structures for sofa frames. And the sinuous springs below the cushions provide added levels of support and durability.
The cushions are made of high-resiliency foam and have a fiber padding wrap that blends solid support with comfort. How does this benefit you? Basically, if you enjoy a sofa that is somewhat springy and extremely soft, this sofa is for you.
For convenience, this sofa has reversible cushions. I've had plenty of sofas where I couldn't remove the cushions at all which shortened their lifespan. Another cool feature is the removable and washable slipcovers. If you have kids and pets, or you have a hard time keeping anything clean (like me), you can simply remove the slipcovers and throw them in the washer. Just make sure you check the cleaning codes!
Overall, the Esker Sofa from Blu Dot is an excellent choice for heavier individuals, larger families, or simply anyone looking for a stylish and comfortable sofa that can withstand regular use.
What we love
I love how descriptive Blu Dot is with this sofa. The website is easy to navigate and the visuals are crisp and not stocky. Another huge plus, and something Snug Sensations stands behind firmly, is the sustainability of the fabric of this sofa. Having no chemical additives and being made from 31 recycled water bottles per yard, Kelso upholstery fabrics are environmentally friendly and can be cleaned and sanitized with bleach or any other disinfectants without suffering from color deterioration or loss.
What we don't love
I couldn't find anything wrong with this sofa. Just like the Kova sofa listed above, it excels in just about all aspects of what you would want in a sofa. The price is good, the materials are top-notch, and the frame is durable enough to hold up heavier individuals.
Shop Now
---
Price: From $3,253
Dimensions: Depends on customization
Frame: Hardwood
Upholstery: Italian webbing
Weight Capacity: Not available
Assembly: Not so easy to assemble/ might require some help
Lovesac is a globally recognized sofa brand that originally started as a bean bag company. These days, the brand is known for its unique and practical sofa that offers a customizable and durable design. Its modular structure lets you create a sofa that's tailored to your preferences, making it perfect for those with specific spatial requirements.
Having sat on many Sactionals with my wife, I can confidently say that they're probably the most comfortable piece of furniture I have ever sat on. What's more, the Sactional can withstand regular use in wild households of kids and pets without compromising its shape or integrity. It's also an excellent choice for heavy individuals. Its sturdy construction includes a solid hardwood frame and steel reinforcements that provide exceptional strength and support.
One of the primary benefits of the Sactional's durability is its longevity. With proper care and maintenance, this sofa can last for many years (10-20 range) and provide comfortable seating for you and your loved ones.
What we love
All Lovesacs sofas and beanbags get the green check of approval from Snug Sensations due to their eco-friendly materials. Their wood pieces are responsibly sourced, meeting certain sustainable guidelines. And the fabric is made from 100% Repreve-certified recycled yarns, meaning they're made from post-consumer water bottles. In fact, since 2018 they have repurposed more than 180 million water bottles!
What we don't love
Let's just address the elephant in the room- the price tag. These sofas are not the cheapest. But for what they don't offer in affordability, they make up for in durability, design, and most importantly, comfort! Sactionals are also rather tedious to assemble. You'll need to grab some friends for this one.
Shop Now
---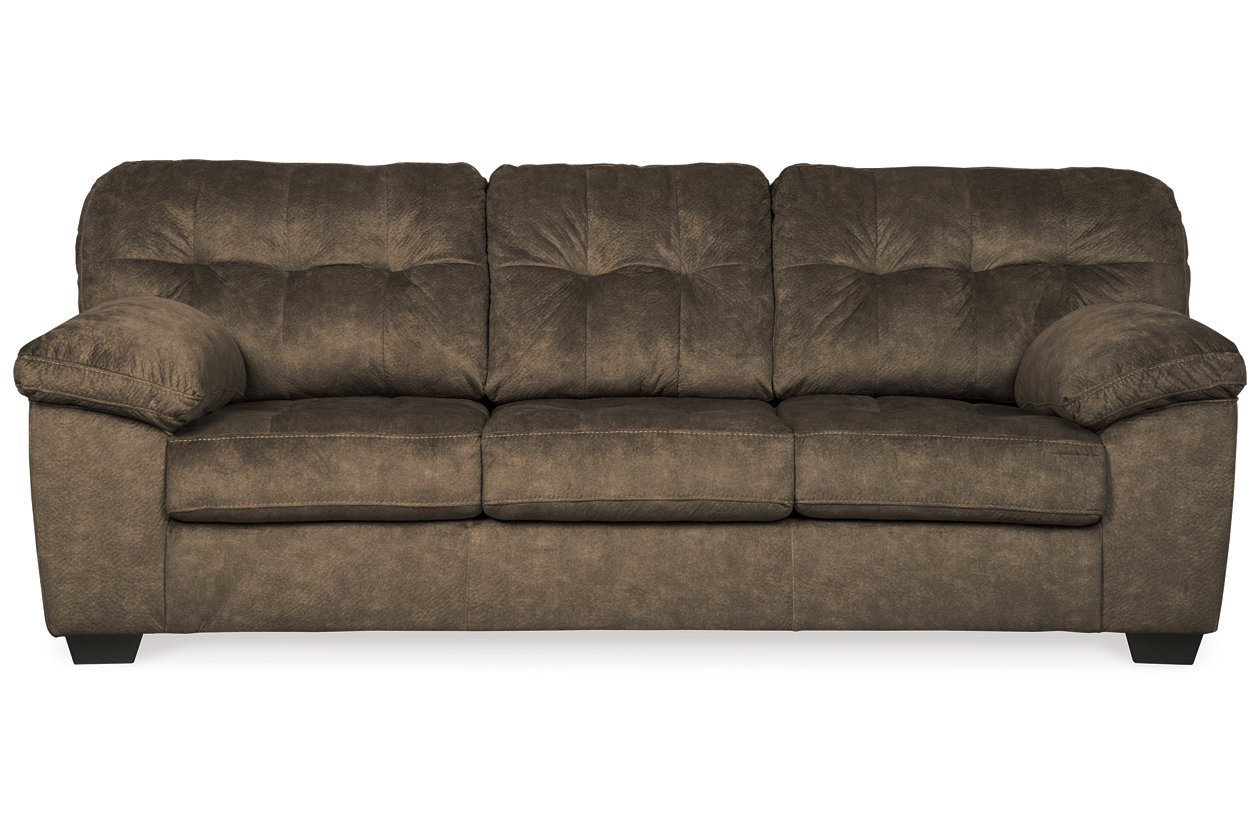 Price: $699.99
Dimensions: 94" Wide 41" Deep 39" Tall
Frame: Corner-blocked
Upholstery: Polyester
Weight capacity: Not available
Assembly: Easy to assemble
The high-resiliency foam cushions wrapped in thick poly fiber provide excellent support while the smooth platform foundation ensures a tight, wrinkle-free look without dips or sags that can occur over time with sinuous spring foundations. The sofa's polyester upholstery is both durable and easy to clean, while the exposed feet with faux wood finish add an elegant touch to the overall design.
All in all, you're getting a good bang for your buck here. Yes, it's cheap. And I agree- it's not at all a statement piece. But it's better looking than some of the other options out there for the price range. Ashley Furniture also has great customer service and excellent return policies plus thousands of other sofas to choose from if you change your mind!
What we love
Even though the Accrington Sofa is the budget choice, it lives up to its potential for a sofa that can handle heavier weight due to its impeccable corner-blocked frame construction and its platform foundation system. Not only that, the foam cushions provide extra support and will resist sagging over time. These 2 factors are worth the price of admission alone in my opinion.
What we don't love
Depending on your style, you probably won't find this sofa attractive. You also might not find their website to be the most user-friendly. Neither did I. But that's a small price to pay considering the frame construction, price tag, and customer service.
Shop Now
---
Price: $3,175
Dimensions: 75-120" Wide 40" Deep 30" Tall
Frame: Kiln-dried hardwood
Upholstery: Fabric or leather
Weight capacity: Not available
Assembly: Easy to assemble
Classic, timeless, elegant. These are merely a few words that best describe this lovely piece of furniture. The Varick sofa by Maiden Home succeeds in striking the appropriate balance between style and restraint while still being reasonably priced. As for the frame, it's made with kiln-dried hardwood that is precision cut to never twist or warp its shape. And speaking of kiln-dried hardwood, it's widely considered to be the strongest material for sofa frames, making it the best choice for heavy people.
One of the coolest features to me is the hidden cushion "tied-downs" which work to secure the cushions in place and prevent them from "rising" at the end. When you consider how often you've experienced a drooping cushion that simply won't maintain its shape, the benefits of this are next to amazing. I've also read through many reviews where folks say their pets, kids, and spills are easy to clean on all of the fabric choices.
This sofa pairs well with a glass of wine, a dimly lit fire, and a good book.
What we love
Maiden Home prides itself on working with some of the finest custom upholstery and wood artisans in North Carolina who individually handcraft all of their products. Their cushions and fabrics are free from toxic chemicals such as formaldehyde and ozone depleters, and their wood pieces are responsibly sourced and meet the Sustainable Forestry Initiative. They also offer customizations and have an excellent customer support system.
What we don't love
Being that all of Maiden Home's furniture is handcrafted with the furniture industry's finest materials, they are a bit on the pricier side. Fortunately, this does not affect their delivery times. You can expect to see your sofa in a matter of 1-2 weeks depending on your customization. Amazon who?
Shop Now
---
Price: $3,160 (check sale price)
Dimensions: 84.6" Wide 35.4" Deep 28" Tall
Frame: Solid kiln-dried ash hardwood
Upholstery: Velvet cotton
Weight Capacity: Not listed
Assembly: Easy to assemble/ can be done in 5 minutes
The Yasmin Sofa gives any home the desired mid-century modern aesthetic we all crave without the effort of searching through hundreds of flea markets to find it. Not to mention, the components of this bad boy (or girl) aren't from the 1950s.
This sofa is available in a choice of rich, brilliant hues that are sure to match any interior design. It's also upholstered in a soft and opulent fabric that feels luxurious to the touch. And high-density foam is liberally stuffed inside the cushions, offering durable support for hours of relaxing comfort. Remember, if you love a little bounce in your sofa, high-resiliency foam is the way to go.
Solid kiln-dried hardwood is used to construct the frame, meaning you won't be breaking this sofa no matter how much you weigh or how many people sit on it. I'm not joking. This type of material is the strongest in the industry. The reason for this is the low-moisture content that kiln-dried wood has.
Kardiel excels in a variety of areas, but one that really caught my attention was how descriptive they are with their furniture and the quality of their images. They even have videos to show you what it would be like if you owned the sofa for yourself. It almost feels like you're researching multiple sofas at once with the amount of detail they provide on just one sofa. And it's not intended to persuade you with gimmicky phrases or jargon. They simply just care about what they produce, and who buys it.
What we love
The Yasmin sofa by Kardial checks a ton of boxes for the topic of this blog post. Most notably, the easy 5-minute assembly and durability. Also, the website is user-friendly and really turns an indecisive researcher into an intent buyer. I love how much they seem to care about the quality of their products and the satisfaction of their customers. Oh, and the eco-friendly materials are a huge plus.
What we don't love
I feel like the armrests would be a problem for people who like a good arm-to-cushion ratio. Additionally, the contemporary style of this sofa might not fit everyone's taste.
Shop Now
---
Price: $1,899 without chaise or $2,699 with chaise (sale price)
Dimensions: 122″ Wide 57.1″ Deep 32.3″ Tall
Frame: LVL and Plywood
Upholstery: Polyester
Weight Capacity: Not available
Assembly: Easy to assemble/Do it for you option available
Honestly, I think sofas with a clean, minimalistic aesthetic are trendy, and the Hamilton Sofa by Castlery absolutely shines in that regard. It's ideal for those who want a comfortable-looking sofa that will blend in seamlessly with the rest of their living space and avoid overwhelming the space with bold colors and eccentric design.
And for those on the heavier side, the Hamilton Sofa is a great choice as it offers ample support due to its robust frame made of LVL and plywood. Plywood is known to be some of the most durable wood for sofa frames out there and is generally less expensive than kiln-dried hardwood. Under the hood (so to speak), the cushions are made with high-density foam and pocketed coils to provide the perfect balance of firmness and comfort, and the legs are made with stainless steel.
Like all Castlery products, there is a strong emphasis on "long-lasting craftsmanship" instead of "fast-furniture". With that in mind, you would think they'd have complaints here and there about delivery and shipping times. Nope. Castlery seems to excel at delivering its furniture in a quick fashion while providing excellent customer support along the way.
What we love
I really love the clean lines and minimalistic design on this sofa. It makes it truly versatile and can be incorporated into a variety of design styles. I also love how swift and orderly the delivery process is. The sofa comes in 2 separate boxes for maneuvering tight spaces well, which is helpful for my apartment people.
What we don't love
With some of the sturdiest materials, classy designs, reasonable pricing, and reassuring delivery times, there isn't much to dislike about this sofa, much less all of Castlery's products. If I was to nit-pick, they could be a bit more transparent about where they source their materials. I noticed that they have "Prop 65" warning labels on this sofa and others on their website. They're also not the cheapest, but more so "fair" in pricing.
Shop Now
---
Choosing the perfect sofa
If you're a heavy person, finding the perfect sofa doesn't have to be difficult. While factors like weight capacity, frame design, and cushion density are all crucial, the real key is to find the sofa that blends together the perfect amount of support and comfort. And our guide today will help you do just that! Remember, a sofa is nothing without comfort, even if it is unbreakable. Above all, I hope this list serves you well in your journey to finding your next sofa!