Velvet has been around for generations and is the epitome of luxury and comfort. Originally, velvet was produced in Baghdad in the ninth century (you know- when people still used swords and horses for everything).
When the Renaissance came around, the upper class was obsessed with velvet. It was the preferred material for kings, queens, and anyone who wished to flaunt their wealth and status.
The elite, however, didn't always appreciate velvet. In fact, the sumptuous texture of the fabric scandalized the church. At one point, they really outlawed it (yeah, for real!). But since we all know that the forbidden fruit is the sweetest, velvet only became more alluring…
Even though velvet is still regarded as "high-end," its luxurious, sumptuous qualities make it a highly sought-after material today.
For this article, we spent hours of research sifting through various different brands and their corresponding reviews to bring to you the 7 best velvet sofas of 2023.
We evaluated quality, design, comfort, and affordability to ensure that there is something for everyone.
From all of our research, we believe the Albany Sofa by Albany Park is the best overall choice because of its price, comfort, style, and various other impressive qualities.
Given that, continue reading to learn more about velvet sofas with various attributes that best suit your requirements.
Our 7 best velvet sofas of 2023
---
Price: $1259
Dimensions: 82″ Wide 32″ Tall 34″ Deep
Fabric: Velvet
Frame: Kiln-dried Hardwood
Colors: 6
The Albany Sofa by Albany Park is a great choice if you're searching for a premium velvet sofa that provides both design and comfort. Some of the superior components of this sofa are its strong wood frame, plush velvet upholstery, and removable seat cushions. Not to mention, those removable seat cushions are filled with high-density foam, offering outstanding support and comfort.
Overall, this sofa sits at the top of our list for a reason. Its affordable price, ease of delivery, detachable cushions, and large variety of available colors make The Albany Sofa hard to beat.
What we love
What's not to love? Everything from the high-quality materials and timeless design makes you wonder why the price is so good.
What we don't love
If I was being picky I'd say it might be too large for smaller spaces. It also yields a higher price point compared to other options on this list.
Buy now
---
Price: $3,350
Dimensions: 88W 28H 39D
Fabric: Velvet (polyester, viscose)
Frame: Wood
Colors: Pink
The Jonathan Adler Brigitte Velvet Sofa from Horchow is a great option if you're searching for a statement piece that will instantly upgrade the design of your living room. This sofa features a classic design with a modern twist, thanks to the unique brass base and luxurious velvet upholstery. But what really caught my eye was the color: a shocking shade of pig-like pink that won't go unnoticed when you walk into the room it's nested in.
What we love
This sofa is by far the most artistic-looking item on the list and would be the focal point of any living space. What's not to love about the color, the velvet, and the design?
What we don't love
Although the design is chic, some people might find it too daring. Moreover, there is only one color option, which makes it difficult to match this item with other color schemes.
Buy Now
---
Price: $2,199
Dimensions: 102W 65D 33H
Fabric: Velvet (polyester)
Frame: LVL & Plywood
Colors: Black velvet + 3 different fabric colors
The Adam Chaise Sectional Sofa from Castlery is a great option if you're searching for a velvet sectional couch with lots of seating room and comfort. Moreover, this sofa has a chic design and a chaise that can be placed on either side according to your preferences. High-density foam is used in the cushions' filling to provide outstanding support and comfort. What struck me the most about this piece is the variety of leg colors/materials to choose from (3 different variations).
What we love
I love that this sofa has an adjustable chaise and 3 different customizable leg options. Not to mention, this sofa boasts 5 stars with over 200 hundred raving reviews which is a great indicator of its durability and overall comfort.
What we don't love
I'm not sold on the fact that there's only 1 color available with the velvet feel. The prop 65 warning could also be a deal breaker for some, but I don't think it's something to be worried about.
Buy Now
---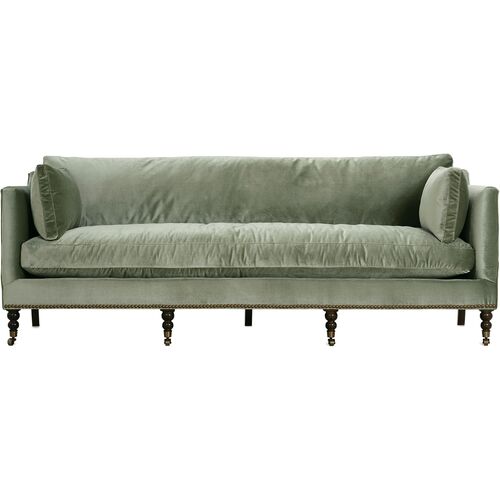 Price: $4,695
Dimensions: 90W 40D 34H
Fabric: Velvet (polyester)
Frame: Kiln-dried hardwood
Colors: 4
Although not everyone will become a king or queen, we can still experience what it's like to feel like one. The Margot 90″ Velvet Sofa from One Kings Lane is a great choice if you want to splurge on a luxurious velvet sofa. This sofa has a sleek, sophisticated appearance, soft velvet upholstery, and cozy cushions. It's also produced solely by hand in the USA and comes in various hues. What's more, 2 matching lumbar pillows are included. But what really stands out for me are the beautifully turned wooden legs. They add a whole new degree of flair to this piece. Fancy, I know.
What we love
I really love how the simplicity of this sofa enhances its luxuriousness. The color options are unique and match just about any color scheme you've got. The fact that it comes with 2 lumbar pillows.
What we don't love
There's not much to hate about this piece. If I were to nit-pick, the price is definitely a bit high. It's also not possible to return this sofa. But like most expensive furniture, that's to be expected.
Buy Now
---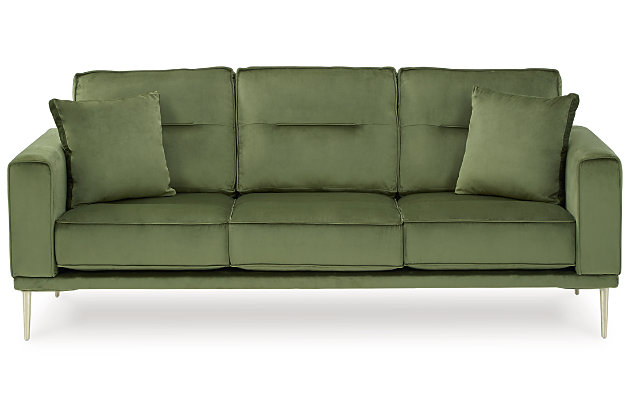 Price: $649.99
Dimensions: 82W 34D 33H
Fabric: Velvet (polyester)
Frame: Corner-blocked
Colors: 2
Whoever said that low-priced furniture meant ugly and bad quality, they're wrong. The Macleary Sofa from Ashley Furniture is a great option if you're looking for a velvet sofa that fits your budget without sacrificing elegance or quality. This sofa has a contemporary style, rich polyester velvet upholstery, and cozy high-resiliency foam cushions. Don't rule out cheaper sofas just yet!
What we love
We really appreciate the style of this sofa even with the lower price tag. And the fact that you can obtain a quality velvet sofa for less than $1000 is super awesome. One to be noticed.
What we don't love
Of course, with any cheaper sofa, there are drawbacks. Some reviewers have noticed the seat cushions have a hard time staying in place. You're also limited on the colors you can choose from with there being only 2.
Shop Now
---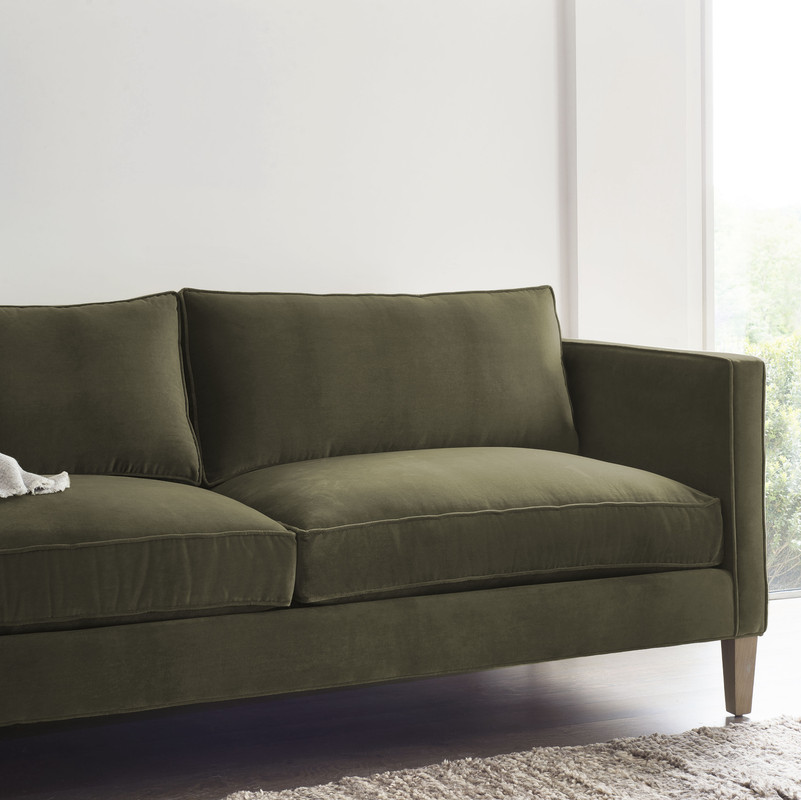 Price: $2,175
Dimensions: 60-100W x 37D x 34H
Fabric: Performance velvet
Frame: Kiln-dried wood
Colors: 1
The Crosby Velvet Sofa by Maiden Home is a stunning piece of furniture that will elevate any living space. One of the standout features of the Crosby Velvet Sofa is the quality of its construction. Made with a kiln-dried hardwood frame and rows of heavy gauge sinuous springs, this sofa is built to last. The sofa also features a streamlined silhouette with clean lines and gently curved arms, creating a look that is both modern and inviting. Another notable aspect is the cushions which are filled with a high-resilience foam core that is wrapped in a layer of down and feathers, creating a plush yet supportive seating experience.
What we love
I'm really impressed with this sofa. Everything from the high-quality construction to the luxurious external features proves that this sofa will be a lasting investment in your home.
What we don't love
Despite being cheaper than most velvet sofas with this level of design and quality, this sofa is still more expensive than most folks can justify spending.
Shop Now
---
Price: $1,270.49
Dimensions: 81W 33D 30H
Fabric: Velvet (polyester)
Frame: Wood & stainless steel
Colors: 4
Tiny houses have been on an upward trend in recent years, and if you're one of those people living in them or you simply have limited space in your living room- the Meridian Furniture Inc. Naomi Upholstered Sofa from Hayneedle is a fantastic option. But despite its compact size and minimal space requirements, this sofa is comfortable enough for you and your guests to unwind on.
What we love
Even though this sofa is smaller, it could still fit you, your loved one, and your adorable pup comfortably. You also get matching pillows, and a generous variety of colors to choose from.
What we don't love
Being that this sofa is quite small, I felt that the price could be a bit lower. Nevertheless, I think it's reasonable when compared to other small sofas. Another flaw to point out is the pillows might also lose their shape over time.
Shop Now
---
FAQ
Learn about some of the most practical questions regarding velvet sofas with our frequently asked questions guide.
Why should I consider buying a velvet sofa?
Any area in your house can benefit from the elegance and sophistication that a velvet sofa can bring. In addition to feeling wonderfully soft and comfy to sit on, it has a fashionable appearance. Velvet is a strong, resilient material that can survive normal wear and tear.
Are velvet sofas difficult to maintain?
Although velvet couches take a little more upkeep than other kinds of sofas, it's not always difficult to maintain them. To keep your velvet sofa looking its best, you should regularly vacuum it with a soft brush attachment and avoid using harsh chemicals or cleaning agents. If you spill something on your velvet sofa, blot the stain immediately with a clean, dry cloth and consult a professional cleaner if necessary.
How long do velvet sofas typically last?
A premium velvet sofa can survive for years or perhaps decades with the right upkeep and care. How long your sofa lasts will rely on the quality of the materials used in its construction, how well you maintain it, how frequently you use it, and how much use it receives. A professional cleaner should be consulted if necessary. As always, make sure to adhere to the manufacturer's care instructions.
Are velvet sofas eco-friendly?
Today, most velvet sofas are typically made from synthetic materials like polyester, rendering them not eco-friendly. But not all hope is lost! Even if velvet couches aren't naturally green, there are several eco-friendly alternatives on the market. Search for eco-friendly sofas made of materials like organic cotton or recycled textiles.
Moreover, search for sofas produced by businesses that place a high value on sustainability and ethical production. But, if you prefer velvet and you have a lot of money on your hands, you can still find traditional velvet sofas made from silk which is an eco-friendly material.
Wrap up
The perfect velvet sofa can come in many different sizes, shapes, and colors, and could last you a rather long time depending on the amount of upkeep you do and the quality of materials you invest in. Buying a sofa made from dense kiln-dried hardwoods like oak or maple could potentially last you decades, whereas cheaper softwoods like pine and cedar might not last as long as you'd hoped. And try to steer clear of particleboard! It's the worst of the materials; especially if you are looking for a heavy-duty sofa. Velvet sofas